"Thank you for buying our product. Turn on your Master X-Ray Vision as we pay tribute to the TaskMaker Team!" - In-game description
The acknowledgments is a level that is opened up after defeating the TaskMaker. The door to the location opens up in the room behind the throne. It features a conveyor belt ride that introduces the creators and contributors of TaskMaker, and also features a special thanks section for people who helped create the game.
In Tomb of the TaskMaker, the acknowledgment levels is present again, featuring a large number of NPCs from the game, with nonstandard speech text congratulating you on completing the game.
The NPCs in this level will also provide you with a number of special "other" spells.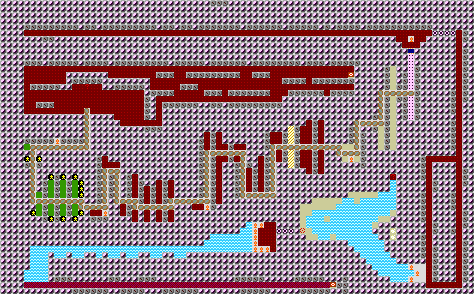 Sprawling wall quotes read:
"TaskMaker is dedicated to my mother, Martie Cook; A true individual!"
A secret passage to the east reveals these inspirational quotes:
"Be Yourself!"
"Have Faith"
"You are not a number!"
"Hold on tight to your dreams"
"You listen to your own heart! Thump Thump Thump Thump Bye"
The main passage reads:
"The Taskmaker Team"

"Illustrations by Tom Zehner" (a "Julie's Whip" is also in Tom's space, possibly a tribute to his wife.)
"Arbalest Fierce Fold and Friendship by Dan Schwimmer Zelphon Ki" (a "Zelphon's Mace" is also in Dan's space.)
"Manual and game editor Dave Friedman (a "Mac SE" is also in Late Night Dave's space.)
"Major testing thanks to Chris Webb

"Thank You"

"Our first V2.0 customer: Chuck Curtis 10-10-1993 Fax Calif"

"Thank Yous to:"

"Bill Jahnel"
"Bo Lindbergh"
"Steven Hill"
"Rod Whitten"
"Troy Janisch"
"AOL"
"CGR"
"Macgalaxy"
"Woz"
"Mom" is written in tiles above "mother" at the border.
Map for Acknowledgments/Celebration in Tomb of the Taskmaker
Edit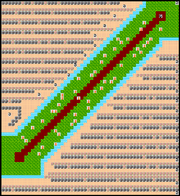 If you follow the teleporter path you will find the following message from the game's author:
THANKS TO ALL THE TM FANS WHO SENT KIND EMAILS COMPLEMENTING THE GAME, WHILE PLEADING FOR MORE! THANKS TO RACHEL FOR GIVING HER HUSBAND SO MANY EVENINGS AWAY – GETTING HER SMILES FROM DAVID'S HAPPYNESS. TOM'S STILL NOT RICH FORMALLY, BUT UNWAVERING IN HIS CONTRIBUTIONS! DAN'S FRIENDSHIP IS TRUSTED GROUND THAT WE ALL VALUED & SHARED. AND BLACKSMITHY DAVE KEEPS FORGING US FORWARD. JANUARY 1996 TO MARCH 1997. WRITTEN IN CODEWARRIOR C 8&11. POWERMAC 8500-120 80 MB RAM 4G HD. CHARLIE ROSE, POLITICALLY INCORRECT, DREW CAREY, CBS NEWS, STEPHEN J. GOULD, SCIENTIFIC AMERICAN, MCLAUGHLIN GROUP, AND ORGANIC GARDENING KEPT DAVE SHARP, OPEN & AWAKE!