"This is an abandoned castle that was once a center of social life. Other than lots of wandering monsters, it's empty. A great place to practice your fighting skills." - In-game description
Objective
Edit
Beyond training and visiting for monster loot, no objective.

Bring a light, it's dark.
None, but the place seems to have a much higher than usual spawn rate.
None
Treasures
Edit
None
Shops & Utility
Edit
Auto tellers at: 19,64 and 19,75
Recycle bins at: 19,62 and 19,77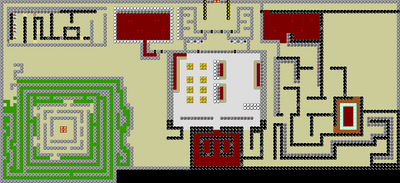 A sprawling wall quote from Hamlet reads "How weary, stale, flat, and unprofitable seems to me all the uses of this world". Another Hamlet quote reads "Though this be madness, yet there is method in't"